The Herbster Community Club Welcomes You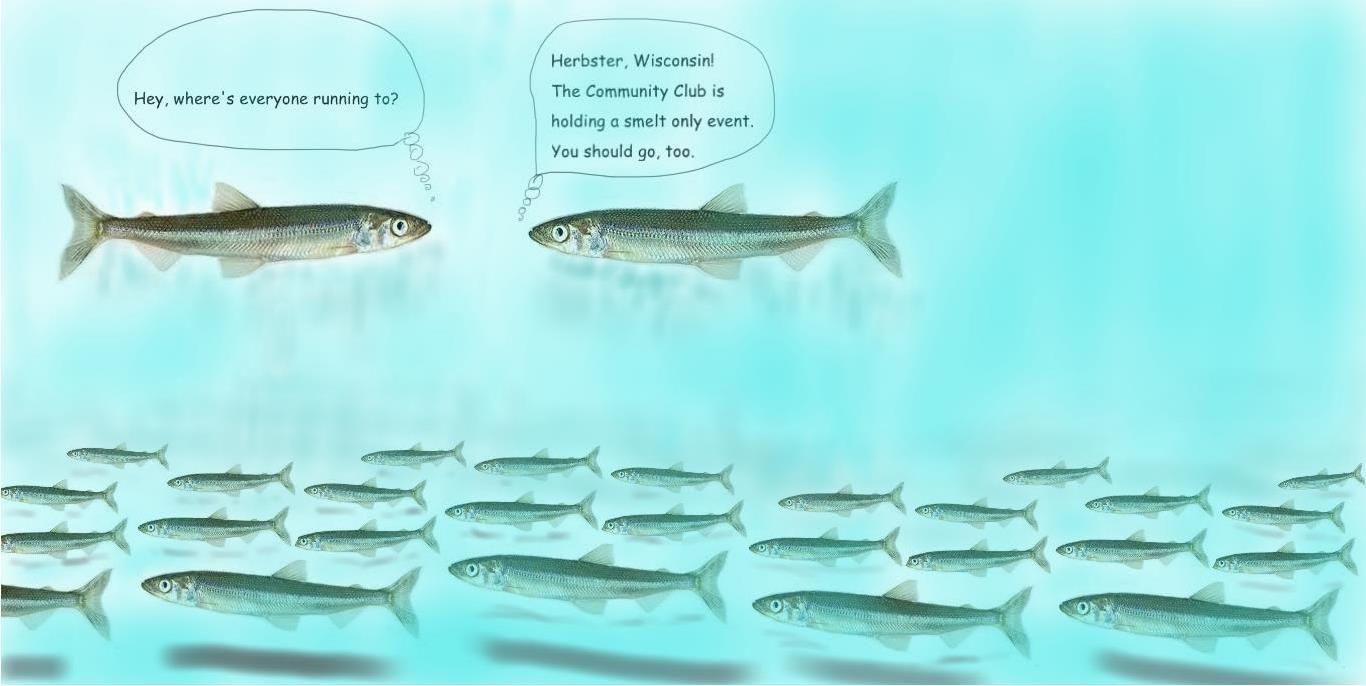 The Herbster Community Club is happy to report a bountiful smelt run on the south shore!
We will be serving smelt and no other fish at our fundraising event on Saturday. Come to the Log Gym for the great food, door and raffle prizes, and conversation with your friends and neighbors.

Herbster Smelt Fry
by the Herbster Contributor
The Herbster Smelt Fry is a perennial spring favorite in northern Wisconsin. I went to Herbster to find the chairperson for this year's event, Shirley Nelson, and got her to take a break from her preparation work long enough to sit down with me and answer some questions about the upcoming fundraiser.
Contributor: Can you please tell me the where, what, when, and why of the Smelt Fry.
Nelson: The next Herbster Smelt Fry will be April 29, 2017 from 3:00 p.m. to 7:00 p.m. at the Herbster Log Gym, 86870 Lenawee Road, Herbster, Wisconsin and sponsored by the Herbster Community Club. The main feature, of course, is the deep fried battered fish from Halvorson Fisheries served with Captain Ken's Firehouse Beans, cole slaw, bread, relishes, and beverages. The price is $12 for adults and $5 for children 12 and under. Homemade goodies, which are donated by local bakers, are available to buy for dessert or to take home for later if you prefer. All of the money spent at the dessert table goes directly to our scholarship fund for South Shore area graduates. Profits from the smelt fry this year will be going to Community Center improvements.
Contributor: Is there more to the event than just food?
Nelson: Oh, definitely. We have raffle prizes, the tickets for which are $2 each or 3 for $5, and can be purchased on site the day of the Smelt Fry, or in advance from Herbster Community Club members. We have wonderful prizes this year including the $500 grand prize donated by White River Ag Products and the Herbster Community Club, a beautiful quilt featuring a wildlife motif donated by South Shore Quilters, Enjoy Herbster Package donated by Pine Cone Ole's, Woody's Food and Spirits, and the Town of Clover, and a Char-Broil gas grill donated by Dale Fuller. We will draw tickets for these prizes and perhaps others at 7:00 p.m. In addition to the raffle prizes we draw for door prizes throughout the time of the event. Door prize tickets are $1 each for higher value items and 3 for $1 for lower value items. All of the door prizes donated by area businesses and individuals are very nice and much appreciated. We are excited to partner with White River Ag Products on the raffle prize. This is an exciting time for them, as well, making arrangements to move to their new location on Hwy. 137 west of Ashland.
Contributor: I have heard that anglers are catching smelt through the ice. Does that mean you will be serving smelt this year?
Nelson: I wish I could predict what the smelt run will be like. Just because anglers are hooking smelt now or people are netting a five gallon bucket of smelt in the spring does not guarantee a smelt run adequate to make commercial fishing practical. It takes many, many pounds of fish to feed the number of patrons at our event. All I can tell you now is that smelt is always our first choice. We will serve two kinds of fish if enough smelt is not available, and if no smelt is available we will probably serve whitefish. As soon as we know what will be on the menu it will be posted on our website, herbstercommunityclub.org and on the Herbster Community Club Facebook page.
Well, there you have it , folks. For good food and a good time, go to the Herbster Smelt Fry. After all, if those people in Herbster have "stayed in business" 61 years, they must be doing something right.
Want to see what volunteers have been doing for the club lately? Click on photo gallery under PHOTOS.
For more photos…
The photo archives page does not work as conveniently as one might think it should. Even though it is a bit cumbersome, you can view many more photos by clicking on PHOTOS on the horizontal menu and choosing "photo archives". Pick a category and point and click "read more". A page of thumbnails will appear from which you select a photo to view. It will display as a thumbnail by itself. Click on that and it will display full size. Back arrow twice to return to the page of thumbnails.